GHAR MORE PARDESIYA LYRICS from "Kalank" sung by Shreya Ghoshal with Vaishali Mhade. The music of the new song is given by Pritam while Lyrics penned by Amitabh Bhattacharya. This movie features Alia Bhatt, Varun Dhawan, Madhuri Dixit, Sanjay Dutt, Sonakshi Sinha and Aditya Roy Kapur.
SONG TITLE: GHAR MORE PARDESIYA LYRICS
SINGER: SHREYA GHOSHAL,VAISHALI MHADE
LYRICS: AMITABH BHATTACHARYA
MUSIC LABEL: ZEE MUSIC CO.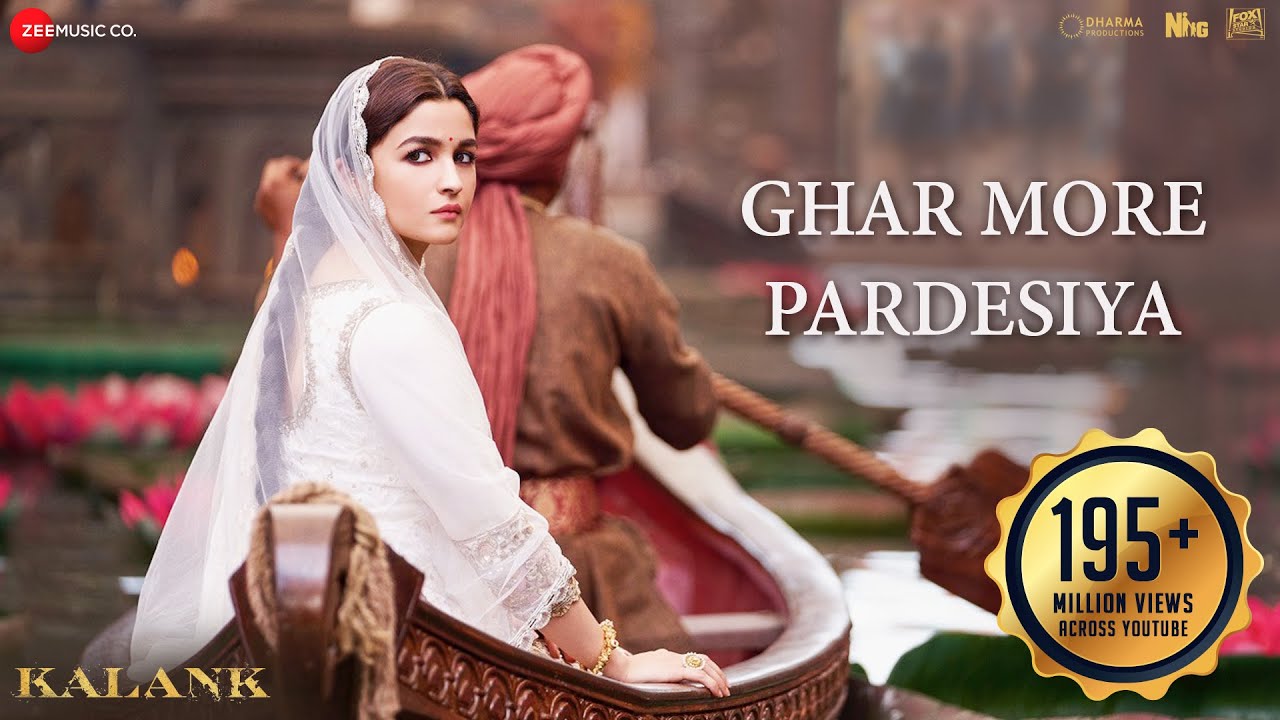 Ghar More Pardesiya Lyrics – Kalank
NAHI BOLNA LYRICS
Raghukul Reet Sada Chali Aayi
Praan Jaaye Par Vachan Na Jaayi
Jai Raghuvanshi Ayodhyapati
Siyaavar Ram Chandra Ki Jai
Raghuvar Teri Raah Nihaare
Raghuvar Teri Raah Nihaare
Dheem Ta Dheem Tanana Dere Na
Dheem Ta Dheem Tanana Dere Na
Dha Ni Sa Ma, Sa Ga Ma Dha
Ga Ma Pa Sa Sa, Ga Ma Pa Ni Ni
Ga Ma Pa Ni Dha Pa Ma Ga Re
Mohe Kuch Doosra Na Bhaaye Re
Tabse Birha Mohe Sataaye Re
Duvidha Meri Sab Jag Jaane
Duvidha Meri Sab Jag Jaane
Naino Ke Naino Ke Tere Baan Se
Jhoom Jhana Nana Nana Nana
Bani Re Bani Main Teri Joganiya
NAHI BOLNA LYRICS
ता दी या ना ता दे रे ना दुम
ता दी या ना ता दे रे ना धीम
ता दी या ना ता दे रे ना धीम
ता दा रे ना दे धीम ता दा नि
धीम ता धीम तानाना देरे ना
धीम ता धीम तानाना देरे ना
धा नि सा मा, सा गा मा धा, नि धा मा गा पा
गा मा पा सा सा, गा मा पा नि नि
गा मा पा नि धा पा मा गा रे गा मा धा पा
रे मा पा धा मा पा नि नि धा पा मा पा गा मा
रे सा नि सा रे रे मा मा पा पा धा धा मा मा
नि नि नि रे सा नि धा नि धा पा मा पा धा नि
धा पा मा गा रे गा रे सा नि सा रे रे गा
मोहे कुछ दूसरा ना भाये रे
मोहे कुछ दूसरा ना भाये रे
हो नैनो के, नैनो के तेरे बाण से
बनी रे बनी मैं तेरी जोगनिया